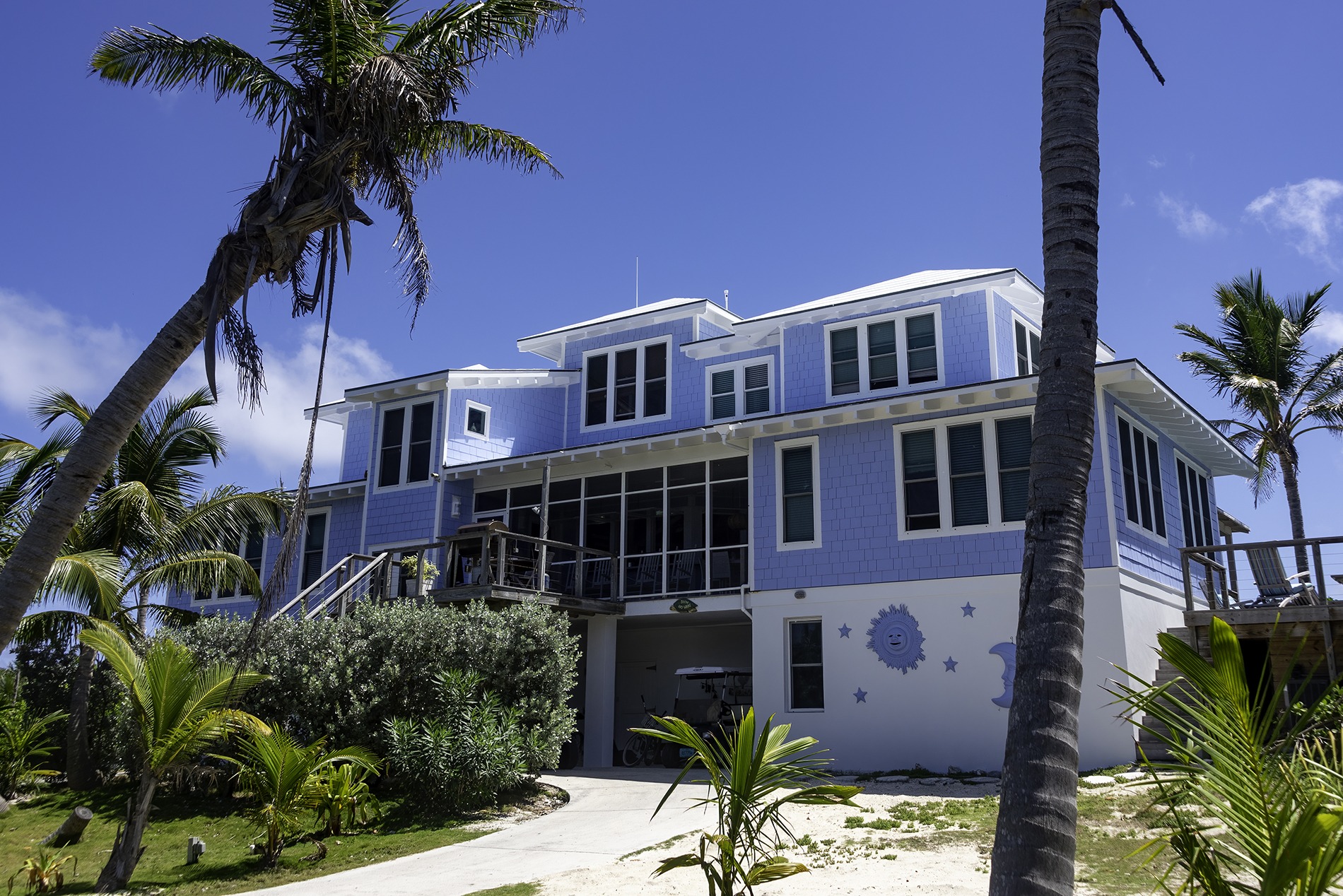 Why rent Calypso?
Calypso offers the most comfortable and fun accommodations for 12 people on Elbow Cay, with 6 bedrooms and 6 full bathrooms, in an ideal central location. Amenities include a boat slip, pool, game room, and whole house generator. Calypso was architect-designed and custom built to be an ideal vacation home for larger groups.
Location, Location, Location
If Calypso were any closer to the ocean, your feet would be wet! Fabulous dune-top views, one of the prettiest sandy beaches on the island, great swimming/snorkeling, and a convenient mid-island location are yours when staying at Calypso.
Elbow Cay, but no rubbing elbows!!!
With plenty of room to spread out and an open floor plan, no guest ever feels crowded. Large decks, generous common areas, and widely separated bedrooms favor socializing and privacy equally. Children are safe and having fun without being underfoot. Whether you prefer quiet or a circus, there are many choices of how and where to spend your time without leaving the house!
Formal and stuffy - NOT!
Calypso is barefoot casual and invites relaxation and fun. Comfort rules. With a warm island motif, collected art that makes you smile, and comfortable furnishings, all your worries will soon be forgotten. A little sand on your feet - no problem - Calypso can handle it!
Let the sun shine and breezes blow wherever you choose to go.
Sunny or shady, breezy or calm, socializing or chilling, everyone can find a place to call their own. Sun worshipers love the steamer chairs on the ocean deck, which runs the entire width of the house. A spacious land side screened porch and deck are perfect for enjoying fresh air when the breeze is a bit strong off the ocean, offering pleasant views of the yard,  palm trees, and tropical vegetation. Whether flipping a burger on the deck's gas grill, enjoying the vivid sunset in a porch rocker, or preparing an island feast in the well-equipped kitchen, you will enjoy innumerable amenities that ensure your stay is fun and memorable.
No more "Who gets the nice bedroom" dilemmas.
All 6 bedrooms are spacious and airy, with lots of windows and great views. Dressers, wardrobes, and built-in closets provide plenty of storage and places to put your things. Every bedroom has its own private bathroom with a shower and two sinks. Don't settle for a bed in a closet that is labeled a bedroom!
To TV or not TV, and a game room.
Wind down with a movie in the quieter private upstairs Away Room, or get rowdy watching a ball game in the game room, complete with a pool table and ping pong table.
No power, no worries.
Those unavoidable Bahamian power outages are a non-event for guests of Calypso. The professionally maintained generator starts/stops automatically and provides all the power needed, even for AC.
Safe and clean fresh water - not from the roof.
Rain water collected from roofs and stored in cisterns is typical for most island houses. All Calypso water comes from a well and is then purified by a commercial-grade reverse osmosis system with a 7,000-gallon reservoir. NO water is collected from the roof, so guests enjoy the cleanest water possible. The waer maker is professionally and scrupulously maintained, and completely automated.
An oceanfront house with a boat slip.
The Calypso boat slip is convenient and protected on Nigh Creek, a brief 2-minute cart ride toward town, and will handle most any outboard. (Additional slips are available by prior arrangement.) The Hope Town Inn and Marina in the harbour offers slips and services for larger boats. (Oceanfront rental houses with docks/boat slips are very rare on Elbow Cay, and finding an available spot at the public docks can be a real challenge.)
Stay connected.
Calypso's offers a wireless network with a very reliable fiber optic broadband internet connection for internet, telephone and TV services.
How about a pool?
Calypso has a fantastic natural pool right outside the back door... called the Atlantic Ocean, but not everyone is comfortable in waves and open water, and/or children need to be watched more closely, so there is a beautiful and protected deck with a freshwater pool and lots of teak steamer deck chairs.
Who's in charge?
Calypso has very active owners that check email regularly, respond quickly, and are always ready to assist. The on-island rental agency through which all rentals are handled, Elbow Cay Properties, is very experienced, very professional, and is an important on-island contact. The caretaker has years of experience with Calypso and lives nearby.
DETAILS AND AMENITIES:
Six generous bedrooms, six full bathrooms

Two master bedrooms upstairs equipped with king beds and double sink bathrooms
Two oceanfront king bedrooms downstairs, each with double sink bathrooms
Two rooms with two twin beds downstairs, each with double sink bathrooms

Sleeps 12 comfortably (no lofts or converted closets!)
5,000 sq. ft. - lots of room to spread out, easily handles a full house
Breathtaking ocean views
Safe and clean sandy beach
Very private yard with lush native vegetation
Private freshwater swimming pool
Close to Hope Town - 10-15 minute walk, 3-minute cart ride
Reserved dock slip on Nigh Creek, 2 minutes away by cart
Well-equipped kitchen with DW, MW, coffee maker, blender, icemaker
Screened-in porch with rocking chairs and dining table
Two washers and dryers
Extensive ocean decks with steamer chairs, gazebo/dining table
Outdoor private hot/cold shower
Downstairs game room with HD smart TV, pool and ping pong tables
Upstairs away room with HD smart TV
Central AC
Pure, clean water with a built-in water maker (no water collected from the roof)
A serious gas grill on a dedicated deck overlooking the yard
Local telephone, VHF radio
Music system with Bose speakers, XM satellite radio, and Bluetooth input
Fiber optic internet with WIFI
Whole-house automatic generator